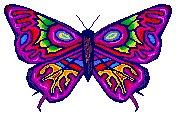 This page has been visited

times.

Shotglasses Shotglasses Shotglasses
I love my shotglasses! Currently I own almost 400 of the mini drinking vessels. My friends insist that one day we have a party where each glass gets used at least once. I don't have enough floor space for when they pass out! For now, I am content to hanging these puppies on the wall. My other loves are Pink Flamigos and Oreo Cookies, but they haven't overwhelmed an entire room yet. Give me time.
Best tip for shotglass collectors: Use spice racks for displaying!
My Snazzy List of Links:
The Great Shotglass Search: A cool place I found while surfing, filled with other shotglass collectors.
Aufish: A wonderful friend and interior decorator!
Hooked on Flamingos: just another maniac
Qoddess: - The Goddess of Questions... Supposedly she has a new set of QUESTIONS OF THE DAY
Chile Heads: "Everything from Mild to Wild"... a great salsa shop!
Shot Glasses From Ireland: Specialists in Tyrone Irish Crystal and have a wide and exciting range of top of the range, solid irish crystal liqueur products.


Contact Me

Shotglass@mailcity.com